Author's Note: I originally stated that the U.S. Embassy bombing occurred in Tripoli when it actually took place in Benghazi. My apologies for the mistake.
The French Embassy in Tripoli was
attacked
early this morning by a car bomb that left the scene, located in a residential area, one of destruction with the embassy's ground-floor reception area and neighboring homes badly damaged. Two guards and a few civilians were injured, but no fatalities were reported.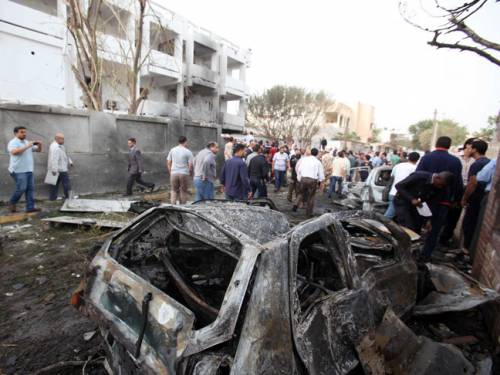 Libyan Foreign Minister Mohammed Abdel Aziz quickly condemned the attack, while the French President called on the Libyan government to "shed the fullest light on this unacceptable attack" and deployed his own foreign minister to Tripoli who said officials from both nations would work together to find those responsible.
No groups have claimed responsibility, but it should come as no surprise that France is definitely high on terrorist target lists, as they have both assisted greatly in the overthrow of former Libyan despot Colonel Gadaffi in 2011 and more recently in the liberation of Northern Mali from Al-Qaeda aligned rebel jihadists.
This comes just seven months after the deadly September 11th assault on America's Embassy in Benghazi, and highlights the inescapable fact that even though Libya is securer and more stable in the aftermath of Gaddafi's overthrow, there is still a significant terrorist presence that is feeding off the arsenals used by the loyalist and rebel forces in 2011 to target both Western nations engaged in the ongoing War on Terror and their African allies.
We will update as more information becomes available.
What say you?